About
Founded in 1996, Urban Architectural Initiatives, RA, P.C. (UAI) is a minority owned, vibrant and diverse group of professionals united around the idea that great architecture is not only for the privileged few. We believe in the foundational power of architecture to help all people lead a healthy, happy and dignified life.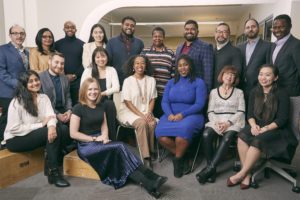 Since its origins, our firm has distinguished itself by combining expertise, dedication and a uniquely responsive approach to planning, designing and building. With over 110 high-quality buildings and 4,200 apartments completed, UAI's experience in community-based developments, supportive, affordable and community housing is unparalleled and has enriched the lives of thousands of families in the city and state of New York.
Leading housing agencies and organizations have been finding genuine partnerships with us over the past three decades. Their mission is ours. Our culture, informed by openness and optimism, mirrors theirs. Well beyond architecture, our experience, knowledge, and commitment serve our partners: we see projects through from conception to feasibility, planning and final completion.
Our work is inspired by a desire to create beautifully designed, warm, efficient and sustainable buildings that respect the needs of our clients and strengthen our overall community, one building at a time.
1996-1999: Opening & Early Public Projects
Our Philosophy
The guiding principle for UAI's practice stems from actively engaging the client in the design process to learn about and understand their history and vision, as well as their functional and formal space needs. This simple approach has allowed us to develop extensive experience in housing, civic and cultural community facilities, educational, religious, health care, commercial, rehabilitations, historic restoration and urban revitalization projects.
A primary focus has been serving nonprofit, mission and community-based organizations to develop housing and community facilities, often with municipal funding sources. We are proud that our buildings benefit underserved communities including the homeless, mentally ill, senior citizens, the youth, veterans and low income families and individuals.
UAI is fully committed to designing deeply sustainable buildings with our clients' comfort and wellbeing in mind. Our intention is to make thoughtful and responsible design decisions, grounded in building science, which emphasize highly energy-efficient and air-tight building envelopes and quality healthy interiors. Leading our sustainability efforts is a staff of Passive House and LEED professionals that recognize that our buildings must serve the needs of current and future generations.
2000–2005: Family Homes & Supportive Housing
Services
UAI has over twenty-years of experience providing the following services:
Planning
Feasibility studies
Programming
Land use studies
Site master planning
Site selection studies
Urban planning
Zoning Analyses
Architecture
Architectural design
Code compliance studies
Conditions surveys
Construction monitoring
Facilities analysis
Peer review service
Historic restoration
Regulatory and review agency approvals
Site design
Specifications
Interior Design
Interior design
Space planning
2006-2010: Civic, Religious & Sustainable
Qualifications
Urban Architecture Initiatives, RA, PC (UAI) is a design-oriented architectural and planning firm with expertise in community facilities, educational, residential, health care, religious, commercial, transportation, historic restoration and urban revitalization projects. The practice draws on the varied experience of its principals and staff.
• Experienced in designing, documenting and administrating construction contracts for new construction, substantial rehabilitation, interior design, and urban planning funded by governmental agencies such as NYC HPD, NYS HCR, NYS HHAP, NYS HHAC, NYS OASAS, and US HUD.
• Familiar with every facet of NYC Building Codes and Zoning Resolutions. Our principals have participated in various advisory committees instrumental in the implementation of the 2008, 2014 and 2018 NYC Building Code and the 2016 amendment to the Zoning Resolution for Quality and Affordability.
• Certified as a Minority Business Enterprise with the NYS Empire State Development Corporation, NYS Department of Economic Development and NYC Department of Small Business Services.
• Current 5 year on-call contract with NYS HHAP which includes peer-review and on-site representation for the agency.
• Extensive experience in obtaining approvals from NYC TA / MTA / LIRR, NYC DOT Bridge Division and the Landmarks Preservation Commission for projects within their area of influence.
• On the NYS and NYC vendor list including NYC EDC.
• Availability of a deep roster of MEP, Sprinkler, Structural and Fire Alarm consultant engineers, as well as expeditors, with whom we have worked with for decades and can provide us with expert and reliable service.
• We have been using Building Information Modeling (Autodesk REVIT) as our main design and documentation platform for the past decade to produce superior contract documents for our clients and contractors.
• Above all, we provide timely personalized service to all of our clients.
2011-Current Community Center & Multifamily